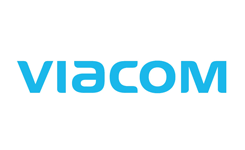 Company Description
Viacom connects with our diverse audiences everywhere they are. As a leading global entertainment content company, we know what our viewers want and proudly deliver it across the globe through television, motion pictures and a wide range of digital media.

Media Networks includes favorites like BET, MTV, VH1, Nickelodeon, Nick at Nite, COMEDY CENTRAL, Centric, CMT, Spike, TV Land, Logo and more than 160 networks around the world. In addition, digital assets such as Neopets, Addicting Games, BET.com and Quizilla offer compelling and interactive content, providing an even deeper connection with our devoted and focused demographics.

Paramount Pictures Corporation offers audiences access to a huge library of top films through brands like Paramount Pictures, Paramount Insurge, MTV Films, Nickelodeon Movies and Paramount Home Entertainment.

Fueled by our world-class brands, Viacom serves an ever-growing population of kids, tweens, teens and adults who want their favorite media and entertainment, 24/7
Job Description
For our Nickelodeon Programming department of pan-regional channels (including Nick Jr. Global, Nick Jr. COMM as well as our Nickelodeon Global, Nickelodeon COMM and NickToons Global and COMM international channels) in Amsterdam we are recruiting, initially limited to 7 months.
Writer/Producer/Editor: Preditor (f/m)
Just the right job for you:
Write, produce and edit short form content to support the Nickelodeon Global Programming Calendar (promos);
Reversion existing on-air promos and video content as needed for global use;
Communication with internal producers, booking and briefing of external agencies and freelancers;
Attend meetings with other LOBs to create and/or reversion existing content that can work across multiple platforms;
Edit and encode video packages, sizzles, budget tapes, etc when required for other departments (CP/Press/Etc);
Deliver all paperwork associated with completed projects (scripts, music cue sheets, etc);
Deliver masters and workreels on all projects and properly archive and QC all deliverables;
Work within budget and calendar timelines as administered by the HOD;
Qualifications
That's why we want you:
At least 4 years experience
Expert user of Final Cut Pro, Adobe Premier, and Avid
Strong knowledge of Adobe Creative Suite
Excellent knowledge of encoding, compression, digital media formats (MPEG-2, WMV, FLV, etc.), DRM and streaming technologies
Experience working in video production for new media applications (broadband video player, mobile video services, etc.)
High level of skill and knowledge of Mac OS and networking tools
Broadcaster/ Large production company experience desired
Excellent communication skills
Ability to multi-task and bring multiple projects in parallel to completion
Quick learner and adaptable to new production procedures and equipment.
Strong detail and deadline orientation combined with great time management skills
Ability to work under pressure with continuous ability to reprioritize
Positive about changes in workflows – as the workflow is constantly being improved due to the changing environment
Written and spoken fluency in English (a second language is preferred).
Additional Information
Why Viacom International Media Networks?Sure, you will have challenging tasks, responsibilities and freedom for your ideas, just like in other companies – but the difference is in the details. At Viacom International Media Networks you are not only bringing in your personal Know How, but also your individual passion. Since we all share a love for great stories, we have gathered the best storytellers and committed ourselves to bringing the best possible stories to our audience all across the world. In the pursuit of telling all the new stories as well as the loved classics, we have grown to become the largest media network in the world. Become a part of us and work for our famous brands like MTV, VIVA, Comedy Central and Nickelodeon. You will have the opportunity to discover your true talent in an innovative and passionate work environment that fits your lifestyle and fandom. We require versatile talents – whether you are a newcomer or a professional – to help expand our content across all platforms from TV to Web. However your own story might turn out, we are happy if you chose to share it with us!